Leprous Coal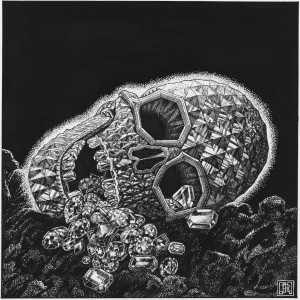 I'd done a cover for Leprous' previous album, Bilateral, in 2012, so we had a working relationship already. I was attempting to regather my skills after the home remodel, feeling sort of lost, when I got the email.
Einar Solberg is my Main Man in this band–singer/keyboards. Based on the name of the album, Coal, I came up with "Well how about we do a Diamond Skull vomiting jewels?" Not sure why the jewels, but anyway Einar liked it, said "Let's go for it." I said "How much time is there?" Knowing there wasn't much. It was February 27, I think. "March 10." So, allowing for a couple days for the scan, I figured 8 days.
Trust me, it was easy to say "Diamond skull vomiting jewels," but that being said, WHAT does that MEAN? I had 8 days to find out. What you see is where I ended up.
This drawing is what began the process of getting back up to speed, getting back the chops. It was totally scary/exciting, and I love it when it happens. There was no time to start over–just GO for it. There was no reference to speak of. Jewels and skulls was it. The first couple days were pretty horrible, but then it came to me, and after that it was just draw like the wind.
I was very happy with the finished drawing. TorO, lead guitarist of Leprous, liked the drawing well enough that he bought it, as well as the Bilateral cover. No higher compliment, believe me! THANKS, TorO!
Next time: Mission Statement